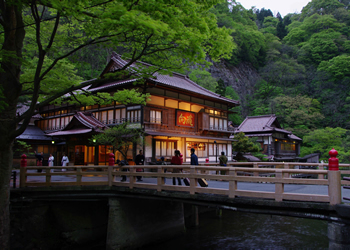 0242-27-7501
0242-28-0939

200 Yumoto Kawamukai, Higashiyama-machi, Aizuwakamatsu City, Fukushima, 965-0814

http://www.mukaitaki.com/
Registered as an Aizu Clan historical and cultural property, this inn is also a registered naturally irrigated onsen hotel. From the moment you step across the threshold, you will be transported back to ancient Japan. Relax, and enjoy your time in the one of a kind wooden architecture and lush gardens of the courtyard. Enjoy the sounds of the flowing waterfall, and the wind playing through the trees, as you are surrounded by the naturally produced, negative ions from the mountains.