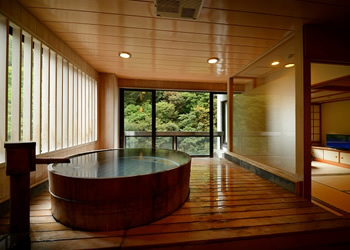 0242-26-4126
0242-27-5739

235 Yumoto, Higashiyama-machi, Aizuwakamatsu City, Fukushima 965-0814

http://www.yumeguri.co.jp/
We are proud of our rich, natural onsen, sourced from natural hot-springs. Enjoy the music of the valley and the babbling Yugawa River as you relax in our large outdoor onsen. For a separate fee, you can also rent our popular private outdoor baths. Enjoy the beautiful valley scenery right from your room. Guest rooms with their own naturally sourced onsen are also available. Enjoy our fine dining to your heart's content, including Japanese styled meals, kamado stove cooked cuisine, and buffet-style local dishes. During summer, enjoy the surrounding nature at our riverfront dining.